Professional Entertainer for Informal & Special Occasions
Close up Magic
Good close-up magic will bring all occasions to life! There is a "Wow" factor to this magic, that keeps people talking about the tricks, a long time after the magician has moved on to another group!
Stage Magic
Laurie Has been performing spellbinding stage shows, in the UK, EU, New York & Los Angeles. the Globe Shakespeare company, the Royal Festival Hall, major international festivals.
Weddings
Laurie's magical and multiskilled entertainment, combined with his warm, friendly and engaging personality, helps to make your special day truly memorable!
Heartbeat Disco
Laurie provides funfilled dance events, for both kids and adults.
As a musician & dancer himself, he knows how to 'tune in' and get everyone moving on the dancefloor, so that they have a funtastic time!
Party Wizard Kids Entertainer
Laurie's enchanting Party Wizard children's shows are magical and memorable! He has a unique way of engaging and interacting with children and adults.
Laurie's enchanting children's shows are magical and memorable!
He has a unique way of engaging and interacting with children and adults
Laurie is an award-winning professional entertainer with over 25 years experience, Performing in the UK, Europe and the USA, In film, TV, theatre, festivals, circuses,schools & The corporate sector
His shows are tailored to entertain children of all ages, from 3 years to 93years!
Nb For older children, teenagers and adults, Laurie can also offer 'magic lesson' parties
Traditional children's magic show (please click here) Always popular with both children and parents Laurie's traditional children's magic show captivates audiences of all ages with mesmerizing magic, juggling, comedy puppetry, clowning, guitar & songs.
The show is very interactive and many children come up to assist with the magic tricks and leave the stage with a smile and a magical gift!
This show combines perfectly with the Mini Disco, for a full two hour party package. The children can express all their excitement and energy in a funfilled,creative session of music,dancing and party games!
(for mini disco see below)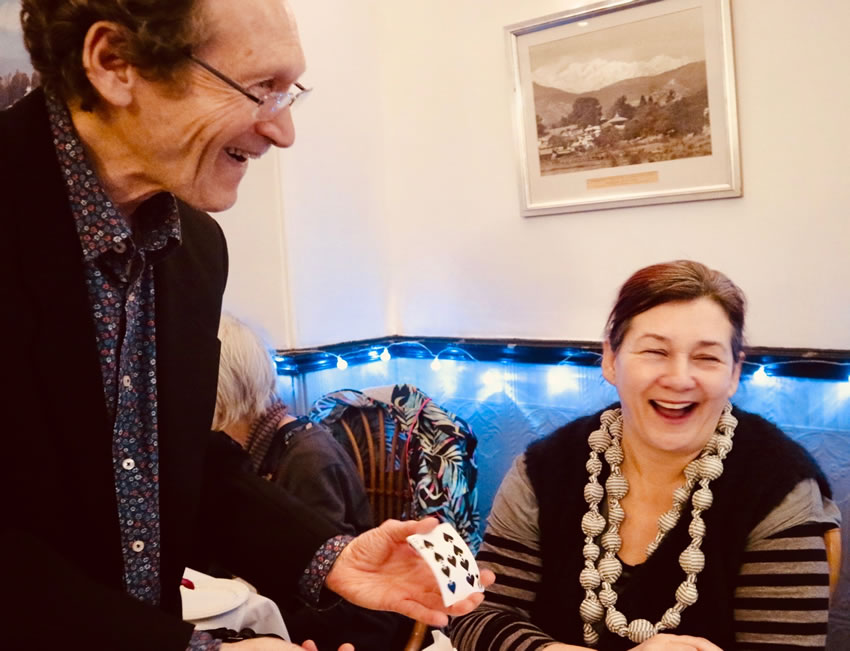 For your peace of mind Laurie is fully insured with equity actors union and has a CRB
Laurie has a Masters degree from Cambridge University.Subsequently, he worked at the Globe Shakespeare Company. He has worked with international circus,In film, TV , theatre and international festivals.
With Temple Events, he has helped to organise complete entertainment packages for weddings, corporate parties and large charitable fundraising events.
Please enquire if you are interested in a top-class full entertainment package for your event.
"His multiskilled and very funny shows bewitch and mystify audiences!"
"Laurie was absolutely brilliant! He had all the children and the adults mesmerised With his magical show. We have already booked him in for next year!"
"Laurie brought his beautifully crafted show to the Electric Palace, Hastings.
The entire sell-out audience of children and adults, were held skilfully in the palm of his hands! He was charming, funny and very magical!"
"Laurie helped to make our party event an unforgettable success!
The children and the adults had a wonderful time.
He is professional, funny, engaging and very talented!"
Servicing Hastings, Bexhill, Eastbourne, Brighton, Tunbridge Wells, London & across Sussex, Kent & the South East.
Professional Entertainer for Informal & Special Occasions servicing Hastings, Bexhill, Eastbourne, Brighton, Tunbridge Wells, London & across East Sussex & Kent & the whole of the South East.
Get in Touch
Please get in touch with Laurie including booking enquiries using our contact form & email or by phone.
Mobile: 07951596240